San Carlos Fishing Report with yearly guide, weekly fishing reports and fishing tournament information. San Carlos Mexico has great fishing in the Sea of Cortez. Sports fishing has been popular here for decades with the waters full of big game fish like marlin (3 types: blue, black and striped), sailfish, tuna, and dorado.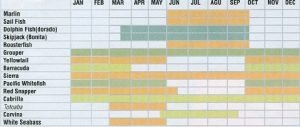 What you can hope to catch changes from month to month. Here's a general break down (see more details in the week-by-week San Carlos fishing reports below):
You can find grouper, cabrilla and sierra all year.
Dorado can start to arrive in March and stay until mid October.
Fish for yellowtail, October through May.
Pull in the big ones, marlin and sail fish, from June into October.
Click for information on 2016 San Carlos Fishing Tournaments and information on San Carlos' two Marinas. The tournament pages also have results from past tournaments.
Wondering where to buy your Fishing Licence?
Before you head out, check the weather and tide chart.
San Carlos Fishing Reports: by Bryan Replogle, Team Margarita Sportfishing, repsilon@aol.com. You can also find the fishing report in the newsletter every week.
San Carlos Fishing Report: January 4, 2017
We seem to be into winter, but with the fishing you never know.
A friend picked up a 25 pound yellowtail in close today. We have picked a few up in close, as well as a few other boats, but overall the fishing has been very slow. The bottom fishing seems to be pretty lacking. The yellowtail are good-sized at least. I heard of one last Sierra caught. The Island was producing, as well as far up the coast at times, and Haystack the same.
I don't know what to expect for the week, and I would hope for some better activity, but at least I know that the weather will be better.
scroll down for more weekly San Carlos fishing reports
Fishing in San Carlos Video
San Carlos Fishing Report: December 28, 2016
The water continues to cool. The Sierra and Bonita may be all gone. The bite turned on Wednesday and finally moved offshore. We caught ten big ones in the rain the next day. They were biting trolled Rapalas, with a few taking jigs and poppers. Then it seemed like the rain caused an algae bloom, or the water to turn over, and it was a little brown Christmas Day.
The water has since cleared up and a few were caught again in close. It was off and on up the coast and off Haystack. The Island has produced some good catches in the afternoon. There's never a guarantee, but I think we'll see some improved action this week.
San Carlos Fishing Report: December 21, 2016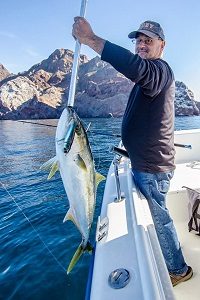 We are coming off the full moon slump and the bite is picking up. It still seems to be a quick morning bite. There were big ones right at the Point today. It seems like they are shallow most of the time, and I have yet to find a deep bite on the jig. The pangas are getting them on live bait off the points when the current is pulling.
Some good bites have been found at Haystack and White Rock at times. They are biting the big Rapalas better. There are a few cabrilla and sierra in close. The marlin are gone for the year. Most every morning has been fishable. Expect some fish this week if you are on the water!
San Carlos Fishing Report: December 14, 2016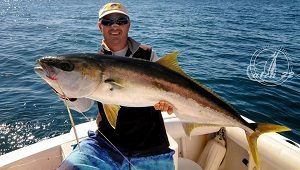 We had a lot of nice mornings on the water this week with some big fish caught. I have never seen such activity, but often they wouldn't touch anything. The yellowtail are big in close, with some fish off Haystack and some huge schools right out front. They were chasing hordes of bait to 6″, but they don't want to chase individual baits. The pangueros did decent at times with live bait, and we caught some on green 30′ Rapalas. Some were fooled by medium sized poppers and one smaller green and white jig. I tried dozens of lures. Hopefully they will bite better after the full moon.
There are still some bonita, sierra, snapper, and cabrilla in close. There were some marlin out there and the pangas caught a few. I also saw some large corvina netted in close. They are probably feeding under the moon, so it could be a tough week.
San Carlos Fishing Report: December 7, 2016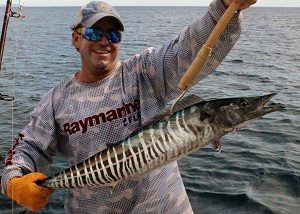 We are progressing into yellowtail season. There are still a few Sierra around and the bonita can be good early on with smaller lures. It is warming a bit and we expect some lighter winds over the next week. Not sure if a few marlin might swim by, but the water in close is hovering around 66 degrees.
We went 25 out to the south looking for tuna, dorado, and marlin. There were lots of spotted and common dolphin, birds flying, and deep bait readings all over. Maybe the tuna were deep.
On Monday, we didn't wait long enough. The yellowtail came up around 2:00pm down by Guaymas for a hot popper bite. There were a few fair reports from the Island. There were some great boils all over in close at times, but they are tough with all the bait around. There are some big ones though! We caught one around 25 pounds just outside the entrance. We also lost a huge cabrilla near the boat.
Timing is everything, and there are some exciting looking tide changes coming up with the full moon. I'd expect some epic catches if you are on the water, … and not at home during the 'bite'.
San Carlos Fishing Report: November 30, 2016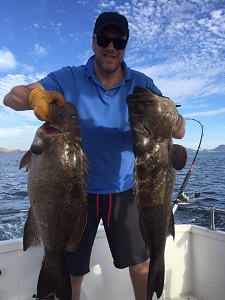 The winds are still blowing, but we're getting our fishing in. The bonita bite tapered off. The water is very dirty inside and the bait has moved offshore. A few Sierra were caught, but they seem to be out of here. We caught a few nice snapper and five big cabrilla in close. We've been picking up a few large yellowtail outside the Seamounts, but they have been tough.
We were surprised on one sunset cruise to catch two monsters just yards from Doble. There have been some massive boils.
The marlin have come up at times, and we and another boat both released one. They are still there on the bait balls, but can't see more than ten feet. I heard of one good yellowtail catch from the Island and one from the Pando.
The warm water has come closer, but I haven't heard of anyone going 24 miles out. I think we're hunkering down near shore for a few days as some cool air blows through.
San Carlos Fishing Report: November 23, 2016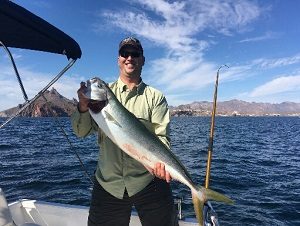 The winds are blowing, but that's not keeping us from catching fish. The wind was up daily, keeping the warm water from coming in. The water cleared up a bit, but the wind isn't helping. Still, we are able to fish in close and the mornings are calm.
The bonita are showing in very good numbers and we are picking up a dozen an hour. The 15′ purple Rapala seems to be their favorite. Hot spots have moved around from around Deer Island, off the Tetakawi, and even from the entrance to Doble. We've had the best luck scraping the rocks in close. They were hitting jigs on the light spinning rods yesterday. We caught a few yellowtailed snappers throughout the week. There are a few small yellowtail out there. We have seen a handful of boils from Doble and mainly around the Seamounts, where we picked up one 22 pound fish. We thought it was a marlin and turned on it just before the line almost ran out. Some Sierra are still around somewhere.
There was a hot yellowtail bite up the coast the week before on big fish, but last week had slim pickings up there. I heard of one decent dorado lost in close yesterday, but they are probably all 50 miles out now. I haven't heard of anyone trying offshore or at the Island. A number of marlin are right off of Doble at the moment, but they are tough. They are very focused on the bait balls. I watched one try to catch a shrimp for a full minute. They could start biting though. I saw one in 40 feet of water, 40 yards off the inside of Deer Island.
The bait schools in the bays are thinning out, but look for the birds, dark shadows, and any ripples. We caught several hundred green mackerel from shore last week. I caught a nice variety of fish on small jigs. Try slowing your retrieve down at times to catch hard fighting 10-12″ bonefish. The North end of Honeymoon still shows consistent activity. It's going to be a busy week of catching, and look for us hooked up to some marlin late mornings off Doble … I hope.
San Carlos Fishing Report: November 16, 2016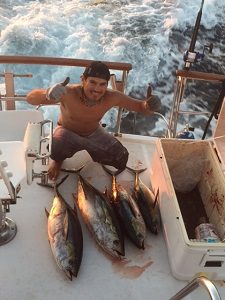 Conditions are showing an imminent change. Still, with as much trepidation as a Trump victory, I am calling for a marlin resurgence this week.
Some dorado were caught up the coast today, and a few seen this week. I didn't hear of anyone fishing the blue water in the center.
There tentatively seems to be some warmer, clearer water creeping up the coast on the 'supermoon'. There is a ton of bait in close, pleasing to all species. The bonita and Sierra catch has been decent. There are also some snapper and cabrilla showing up. We caught one 13 pound Leopard Grouper today in close. The fish may be full at times, but I'd still expect some decent catches this week.
San Carlos Fishing Report: November 9, 2016
Well, not the most important report for the moment, but here is the Fishing Report! I think the state of the fisheries was not even a thought in this election.
We made it out past the Reef with no luck, but found another small wahoo at the Island. I heard of one report of nothing farther out, but we need a search party to eliminate the possibility of tuna and dorado out there. The water is still blue and warm in the center.
In close, the water turned over. I don't think the fish are gone — they just can't see and are deep, along with the bait. I saw some dorado at Doble the other day. We caught a number of bonita in close deep the day before. Some large Sierra are showing.
Fisher and I did make it out yesterday in the coolest 75 degree water that I have seen for a 13 pound yellowtail. We caught a sail a few miles out earlier in the week. We missed one marlin at the Island, but they were pretty absent after we caught two in close on Wednesday.
The inshore action is great at times. There were a ton of tuna caught to the far far south. Come on Supermoon for our last taste of summer!
San Carlos Fishing Report: November 2, 2016
It looks like it might finally start to cool down. This is the warmest October I've ever experienced here in San Carlos.
A few sailfish were caught last week, but I don't know if we'll see many more. We are still getting a few dorado, mainly in tight to the rocks. We even caught one weighing 11 pounds at the marina entrance. Four good tuna were caught last week a few miles from the Island!
A few boats fished offshore for a couple of billfish, one at 300 pounds, and some yellowtail at San Marcos. Yellowtail are being caught deep jigging at the Island. We got surprised by two 11-pound wahoo there today. There were good bonita around and we caught plenty all week in close, along with the skipjack. A number of marlin were found in close, but the bite was a little finicky. We had one 200 pound Blue open a hook today.
The bay, beaches, and shorelines are full of bait, with plenty of hungry predators around. No complaints here!
San Carlos Fishing Report: October 26, 2016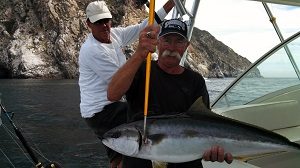 Summer doesn't want to end! Even with the wind today, the sun still felt hot. When it's not blowing, which has been a lot, it has been very warm. We had thunderstorms pop up, and even have a category 4 hurricane far to the south. The water has been 80 – 83.5F, and even showed 90F in the middle on Monday.
The fish though I think are expecting a change. A few bonita are coming up, along with Sierra in close. My friend's jigged up a few yellowtail at the Island, and another boat caught them on the other side.
One big change is all the billfish and dorado showing in close. A few boats released up to five marlin over the weekend. My friend's caught a small Blue 400 yards out, and we caught a 200 pound Black in the middle of the Bay. Today we caught a marlin about 80 yards off Deer Island, and a 14 pound dorado twenty yards off Doble. I missed one big sail right outside the Seamounts. We've seen packs of marlin on small bait, and most within a mile. It looks great 22 miles out, but we're saving fuel where we know the fish are.
There has been some great inshore activity. There are some larger Roosterfish around and a number of big jacks. As long as there is good bait, water temp isn't as important, and it is nice and blue right up to shore at times. There's still plenty of time for winter to arrive, and I'm warm blooded anyhow.
San Carlos Fishing Report: October 12, 2016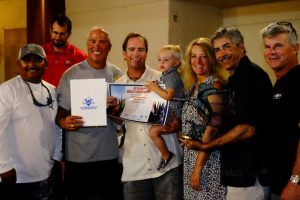 We are into October, but it doesn't feel like it! We've had some light afternoon NW breezes kicking up some small chop some days, but the sun still feels intense if you are not in the breeze. The mornings are all glass calm, leading to some midday sweating. We've had great boat rides though, with some mild sea life around.
See below for the winners of the Hammer Down tournament. Some boats got skunked! I don't like to report it, but we've had a few of those days lately. It has been tough. There is a fair amount of small dorado around if you troll some small lures. They are little bait robbers, but small light tackle catches them. Nothing made weight in the tournament, but I saw one dorado that was 0.5 pounds shy. A couple of 20 pound fish were caught in close, and dorado were even seen from shore.
I think I had a Blue biting a mile out today, one was caught at 5 miles, and we missed one at 7 miles. There were a number of small Blue Marlin released in the tournament, and tales of some large ones lost. A few sails were showing up, and there were reports of some in real close. I don't know if the monster swarm of them that swam through in June will be seen this year again. I think the best numbers of Striped Marlin are still deep and a month away from showing their force. Inshore action is there, with Sierra, some corvina, and even a monster Snook caught.
Well, back to the tournament. Three boats had two releases on Day One. Kryptonite held strong with another early release, a good marlin release, and a sail on the final day – but their pictures didn't turn out! Heartbreak!!! We've gotten complacent only running one camera. I've certainly been there myself losing dozens of photos, and have lost that Tournament Invitation a couple of times on shady calls. So, .. I guess we on Telamon have to come up with the money to fish the World Offshore Invitational Tournament in Costa Rica. I've been there twice and we have a good team. We just have to be great to win! We paid for our fishing with the win from our three releases. The charities generated some good money and many walked away with great prizes.
All had fun hopefully – (even with the slow fishing!), except Kryptonite (who still took second) who has a sad story to tell, that I can sympathize with. Well, that's tournament fishing.
So,… we'll be out there daily this week, and most of next, waiting for it to cool down, and working on catching fish to give you the next report!
Hammer Down Fishing Tournament Results: Click for the Results and photos from the Hammer Down Fishing Tournament that was held October 7 – 9, 2016.
San Carlos Fishing Report: October 4, 2016
This weekend is the Hammer Down Tournament, a combination of the Labor Day and Cantina Cup. Many thought it was just too hot most Labor Days and the organizers of the Cantina Cup lost interest, so now we have one final tournament. Hopefully we'll see about 20 boats, and even some fish weighed!
We've had a few half-day charters. We keep missing a marlin in close that wants our lures, but not always the bait. There has been a lot of small dorado out there, but few that even make 5 pounds. Some friends found a few weighing up to 20 pounds far out on Saturday. We'll see what can be found in the tournament.
The season seems to be changing. Cool green 80 degree water is about to the Island and some yellowtail are being caught. The action inshore cooled off a bit, but should slowly pick up again. Cool dry northwest winds are starting up. I mourn watching the blue water leave, but in the process the best fishing can take place. It might happen quickly, or slowly, so get down and get on the water.
San Carlos Fishing Report: September 27, 2016
We finally got back after seven weeks of vacation to Tahoe, Heber Valley, Marble Canyon, Lake Powell, Utah again, Silverthorne, Carbondale, and Durango. It was an adventure camping with the dogs and a toddler.
Here is San Carlos, boats are starting to get on the water again. It is a lot cooler than in past years! Water temps are already in the mid-80's with comfortable air temps and light winds. We released one sail on Saturday, bent a hook on another, caught one decent dorado, and caught and released many small ones. There is a ton of large debris and bait out there.
There were reports of a few billfish and some good dorado. They are catching tuna and wahoo off the East Cape and I am hopeful that we will see a few. I caught a lot of fish from shore the last couple of mornings. I think we are going to have a great couple of months coming up!
San Carlos Fishing Report: July 26, 2016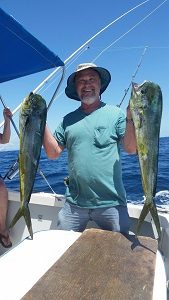 There's not much to talk about, but it's better than nothing. We got out late the other day to release a couple of sails outside the Reef. We had a mob of tuna come in … but they were Skipjack. I haven't heard of any bite, besides small snapper at times.
We are seeing a few turtles and dolphin. We did see a few small pods of white Risso's Dolphins the other day. One surprise catch was that of a 22 pound Roosterfish down by Miramar.
Supposedly there were some billfish in close last week, but all we found over two mornings was one dorado. It's still nice to get on the water though with some cooler mornings. There's reports that even far out, there's nothing biting.
Better to take a few days and fish the other side! Too far for me. I'm headed to the mountains.
San Carlos Fishing Report: July 5, 2016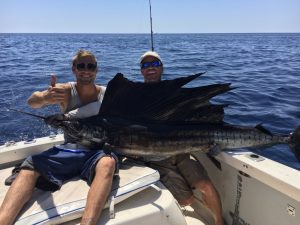 The 69th International Billfish Tournament saw 9 boats releasing 24 billfish. No dorado were weighed. Kryptonite took the tournament, but Eleanor on Predator won top angler with six releases for the first woman ever to be top angler!
I'm hoping it's the new moon, but fishing has been tough. The best bite was out in the center over the weekend, though I heard of legendary action on the other side. We caught a lot of good Sierra in close today, along with finding a few sailfish inside the Reef. We found but a few tuna yesterday off a 180, where some were caught on Sunday. Nothing big though.
Last Wednesday they found a number of small tuna just 6 miles out, but as usual, if you are going off yesterday's report … you may be too late. They were gone the next day.
International Billfish Tournament Results: Click for the Results and photos from the International Billfish Tournament that was held July 1 – 3, 2016.
San Carlos Fishing Report: July 12, 2016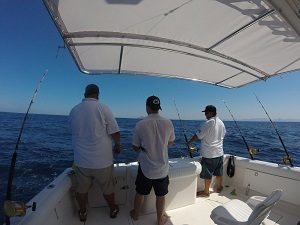 The fish are out there somewhere! It's been rough the last couple of days with no one going out.
Last week a few big dorado were lost in close. My friend found good ones 50 miles out, and some buried in sargasso against the other side.
The billfish are few and far between. A pile of small tuna and some dorado were found on Friday about 24 miles out, moving to 35+ by Sunday.
The full moon and tides are coming up, so we'll keep our fingers crossed for this week!
San Carlos Fishing Report: June 28, 2016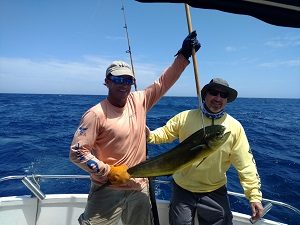 Well, if you didn't hear of any fish caught this week, it may have been because people weren't talking. Small tuna to 12 pounds were caught from 150-210, 15-23 miles out. The tuna boats are far to the south fishing the big ones, though I am sure they are reading this report on whatsupsancarlos.com.
It was rough last week! We were out in the middle alone on Friday with some 5 – 6 feet swells rolling through at times. It made the other days seem calm! Thursday saw a lot of dorado coming through from 6 – 12 pounds in small schools, and the sailfish were also consistently biting. A few marlin are coming around again, and I wouldn't be surprised if some big ones don't show up with all the 'bait' out there. The tuna are biting short on feathers and cedar plugs. At times you need to weed through a lot of skipjack and bonito. The yellowfin sure seem to like the poppers. We are enjoying the sashimi. Hope to see you at the weigh station for the IBT this weekend!
San Carlos Fishing Report: June 28, 2016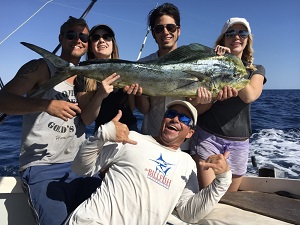 We are still getting a lot of nice days on the water. The green water is pushing out at times, but it was blue into the shoreline at times. There have been a lot of turtles coming in, with a few of their favorite jell fish to eat. The water is up to 85 and clear blue. Bring a lot of cool drinks, think about trolling with some angle to the breeze, and when all else fails … get wet.
You may have heard of the report of 41 sailfish caught and released in one day! Well, they hit the core of that massive school of sailfish and worked them hard. That was starting at 32 miles on Saturday. Unfortunately, those fish were moving west with the bait. They were at 17 miles last Tuesday, farther east. Let's hope they circulate back this direction after the full moon, because the pickings in close are minimal.
The tuna were up sporadically into Friday before they pretty much disappeared. There were also decent catches of larger dorado that seemed to have fled too. There were a large marlin or two caught closer to Tortuga, along with the only good marlin reports. A few big wahoo, and a number lost, were caught close to Tortuga.
In close, there are but some Skipjack, Sierra, and small Dorado. Moral of the story — if you're reading this you are too late, you should have been here by now, and you better have a fast boat that can get you to the other side. The sargasso is long gone – thanks El Nino. There is little debris or marine life. There are some flying fish around … with no dorado. I'm not giving up hope, but we are not holding our breath. We will still be out fishing almost daily, catching a sailfish or two and hopefully picking up dinner. Life could be much worse.
San Carlos Fishing Report: May 31, 2016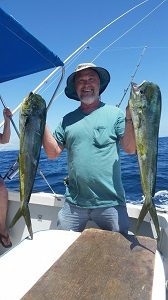 A few respectable dorado are showing up. The sailfish are just beginning to filter around even with an incessant moderate NW breeze. They are thick off the Horseshoe. The marlin are packed together in areas at the right times. Bites have been all over and changing daily. The blue water and fish have been in very close at times.
The pangas were getting snapper in the Bay, with some bonita and sierra around.
There are lots of varied life out there in places. The sargasso and small dorado can be a nuisance at times. Both our boats picked up three marlin releases each today, with some better dorado chasIng flying fish below frigates in close.
The ladies saw some good action over the weekend! It was a great turnout. Congrats Judy on Kryptonite with eight releases for the win! We unfortunately followed hot reports, and in actuality the best bites were right where I would have gone.
We're out daily, so give us a call – Team Margarita on ch. 68. The water is 78 and the air won't get cooler!
San Carlos Fishing Report: May 25, 2016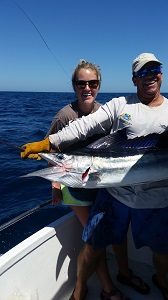 Tournament time is coming up! This weekend the ladies will get to play, with the Rescate the weekend after. The full moon seemed to challenge the bite, and we'll see if we can figure the fish out again. They always keep you guessing.
Some schools of small dorado were found on larger sargasso patches last week. I only heard of one decent fish caught weighing 25 pounds. There are still no reports of wahoo or tuna. The skipjack are starting to show up. We caught a number of bonita and sierra in close. There were also a number of billfish in close. My friend saw one inside the point and caught one 300 yards out. I saw a few and missed one 1/4 miles out and caught a sail and marlin 1-2 miles out. There is a lot of bait around and the bigger ones will be right behind.
The weather has been fairly favorable. Temps are 76-78 in the blue, with some cooler green water in areas. The Fin Whales have been around and occasionally the Orcas. I never saw so many mantas as on Saturday, and the Mobula Rays are moving back in. Things are looking good for the Memorial Day weekend, and even better if the fish are biting!
San Carlos Fishing Report: May 17, 2016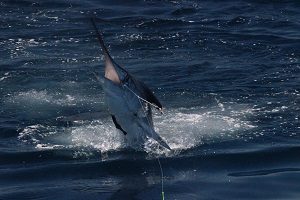 The water is heating up and so is the fishing. The sailfish didn't seem to move in in great numbers, but some big ones are spread around. The marlin did show in mass on the backside of the Island and then down the Reef. We had more come up in our spread on Saturday afternoon than I've ever seen.
We were sweating and waiting for the next fish to take another swim. You could dive down six feet and feel the water cool off 4-5 degrees. The next day Terrafin showed 85 on the surface at the end of the Reef! Don't worry though, the ocean didn't actually warm up ten degrees in a week.
Some small dorado are swimming around in schools, but not a lot, and not very many big ones. Some bottomfish were caught, but very deep.
I think it's safe to put away the yellowtail gear.
Sleep in with the full moon and find that blue water right out front. There is plenty of Sea life out there (we spotted a couple of turtles). The weather looks good, so get out there before it gets even hotter!
San Carlos Fishing Report: May 10, 2016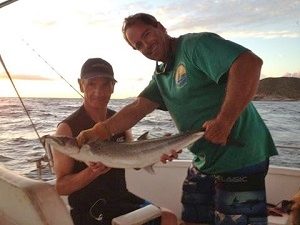 This should be the week that we see significant warming. Some cool water popped up with the tide and winds, turning the water green in close. Outside, the water is blue and into the mid-70's to close to 80 in the afternoon. We were out in the blue today seeing lots of sailfish coming in. We caught one good 13 pound dorado and saw others. There was a good amount of all the bait – anchovies, ballyhoo, flying fish, crabs, and squid. The billfish were coming in hot on the teasers and switching off to the baits. We've released a couple dozen now in the last few weeks.
The Island saw a few yellowtail caught today. We picked up one bonita at San Antonio yesterday afternoon and saw some Fin Whales. The Orcas have been seen a number of times lately. There are also lots of dolphin, mantas, and sharks out there. The weather is great with light breezes. It's a great time to get out on the water!
San Carlos Fishing Report: May 3, 2016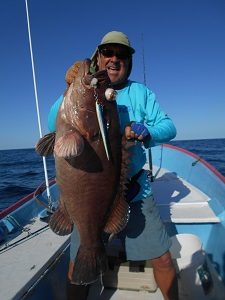 Just got back, thanks to a marlin biting ten minutes before sunset. Not bad for a two hour cruise!
On Sunday we picked up another release on a half day, and Saturday three marlin releases in six hours and our first dorado and bonita of the year.
My friends got out early that day and released seven marlin, a sail, and a number of small dorado. I have not heard of any big dorado caught. A few yellowtail were caught, but the season is winding down. Sierra, bonita, and cabrilla are biting in close.
The water is 73-74 degrees right now, but the Northwest winds are supposed to abate a bit more this week. The Orcas were sighted a few times this last week!
Just got back, thanks to a marlin biting ten minutes before sunset. Not bad for a two hour cruise!
On Sunday we picked up another release on a half day, and Saturday three marlin releases in six hours and our first dorado and bonita of the year.
My friends got out early that day and released seven marlin, a sail, and a number of small dorado. I have not heard of any big dorado caught. A few yellowtail were caught, but the season is winding down. Sierra, bonita, and cabrilla are biting in close.
The water is 73-74 degrees right now, but the Northwest winds are supposed to abate a bit more this week. The Orcas were sighted a few times this last week!
San Carlos Fishing Report: April 26, 2016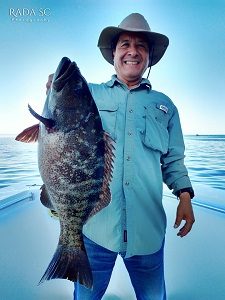 It was feeling like summer last week! The marlin flooded in on south winds followed by dorado and sailfish. No word of any tuna yet.
We caught our first sailfish yesterday, along with three marlin on an afternoon outing. There were six glass calm afternoons in a row. Terrafin showed 83 one day, and we read 78 on Wednesday. Mostly, temps are 73 – 75. A few dorado to 20 pounds were caught, along with a few yellowtail. We found some 6 – 9 pound Sierra around the Bay. The marlin are all over around the Reef and inside. There is a lot of bait out there.
There's lots of various life to be seen and the air temperature is perfect!
San Carlos Fishing Report: April 20, 2016
This week looks warm, but the winds still don't want to seem to turn around. I saw a global image last week though that showed a good hint of things turning around. It is warm and the clear water is not too far out there. We did see one marlin jumping at the Island.
The bite was good in the late, late afternoons at the Island. We only caught two yesterday there and didn't see any surface activity, but my friends found one hot lure and location there the day before. The right tide can help. I'm not sure how many may be spawning on this full moon. It could make things tough this week.
We'll see if the full moon turns on the spawn and bite for any of the bass species. The calico fishing was fair this last week. I didn't hear of any Grouper catches. We got lucky with one big yellowtail in the Bay, so there are some around between here and San Antonio.
The crew from Grey Goose, the winners of the 2015 Labor Day Tournament, are representing San Carlos in the 2016 World Offshore Championship. They released 22 sails yesterday — good for 22nd place of 66 teams. Pretty good for the tough field of competitors gathered in Costa Rica!
San Carlos Fishing Report: April 12, 2016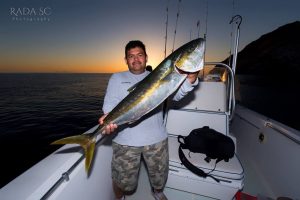 It's been much of the same  with the fishing in San Carlos. There are small to medium-sized yellowtail up the coast with larger ones at the Island. The bite at the White Rocks is better in the morning and the Island is better in the afternoon. Jigging sounds more productive in the morning. Poppers are working on boiling fish and at the Island on the right tide. Later in the week looks good for the afternoon.
I haven't seen a boil in close in weeks. We managed one yellowtail bottomfishing. The bite has been better for the Golden Spotted Sea Bass. There are some cabrilla in close and at the Island, and it sounded like the bite is on at Isla Tortuga. Water temps are getting above 72. We passed a nice feeding marlin the other day just a couple miles out. Summer is getting closer!
San Carlos Fishing Report: April 4, 2016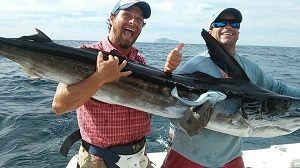 It was another tough week of fishing in close after the full moon. At times there was a plague of seaweed making trolling impossible. The winds were often up, inciting involuntary singing by 'mariachis'. Combine that with seemingly very few fish around.
We usually managed to scrape together a meal with some bottomfish, a few sierra, one 18 pound yellowtail by Haystack, and a few good cabrilla. The dolphin have been around, as well as a few turtles, and lots of jumping Mobula Rays. A few marlin are being seen, but none caught. With a better weather report and waning moon, I expect this week to be better.
We did make it up the coast to find a slow bite at the first white rock. We then headed to the Island which had an improved report. It got rough, but we were able to chase the birds on the west side for some nice yellowtail on poppers. I expect the Island will finally turn on this month, weather permitting.
San Carlos Fishing Report: March 29, 2016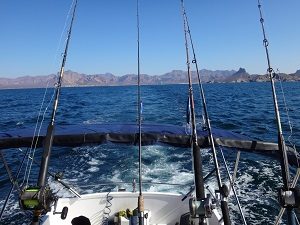 The week started out decent before the full moon, but after felt like the Semana Santa crowd. It has been too rough to jig the last few days, but a few boats scraped out a meal working hard at it. The bottom fishing was decent, and then got tough. We saw one marlin, but that was it. We have caught a few good cabrilla and snapper in close, but lately very little. We got lucky with one big yellowtail the other day right before Haystack. A few Sierra are out there.
Most days we have been able to scrape up a meal, but not all of them. A few catches are coming in from up at Punta San Pedro, and the Orcas were seen there the other day. Water temps are 70-73 degrees with fairly clear water, though plagued with seaweed at times. A few other whales are out there, as are dolphin and seals, and a lot of Mobula Rays, which all combined help to provide entertainment on the water. Now if the wind would just let up!
San Carlos Fishing Report: March 22, 2016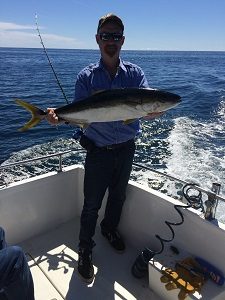 Things are heating up for the week. There are lots of boats cruising around chasing whales and dolphins. Many were Bottomfishing this morning. We joined them and got some nice calicos. I started marking more bait throughout the day with a hot evening bite along the rocks. I think all species may be having a spawn on the full moon here, including the two-legged variety.
We were up the coast yesterday afternoon and the fish didn't come up for us. The afternoon bite was hot at the Island while I was gone for yellowtail, snappers, and several varieties of cabrilla – one I'd never seen and a number of Golden Cabrilla. We did get a lot of sierra mackerels and barracuda. Then today they did show there again, and at the Island. The bite is tough, but some yellowtail are being caught. We did pretty good in close this afternoon for cabrilla and pargo. They sure taste good and they are not far away.
A good number of marlin came through, but we have only seen one in close. A pack was seen at the Island and I bet that they are stacked up on the Reef. I read 75 degree water today, and Terrafin showed 79 out there on Monday. The wind will come up briefly, but then in looks to warm up next week again. One sailor saw dorado under a weed patch 25 miles out. Now who's going to find the tuna!
San Carlos Fishing Report: March 15, 2016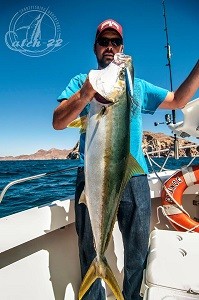 The fishing has been mostly slow, but is great at times. There have been a few late afternoons when there were good boils and surface action off San Antonio. It also looks like they had one good morning for surface action at the Island.
Up the coast has been pretty slow. There has been a lot of seaweed out there making trolling difficult. Many boils were up only briefly, with jigging fairly slow.
A few marlin were coming through. Pangas were getting short bites on live bait. A few Sierra and cabrilla are being caught.
The weather has been pretty nice at least. The moon, tides, and spawn phase all look good for the next few days, but I think I've given up on predicting a great bite.
You need to put in the time to get lucky!
San Carlos Fishing Report: March 9, 2016
The marlin came back this week! We released five in two days. It really looked nice off the Reef, showing blue and 76 on Terrafin. We saw some turtles and flying fish. The tuna and dorado could be out there!
The yellowtail fishing has picked up. There was still some good action up the coast and some at the Island, but also some good action in close at times. We hit our limit on Monday with big surface boils all around. They were nice 10 – 15 pound fish.
The wind is back at the moment, but the forecast looks good. We saw some Mobula Rays out today. The whales were around most of the week. Things are looking good!
San Carlos Fishing Report: March 2, 2016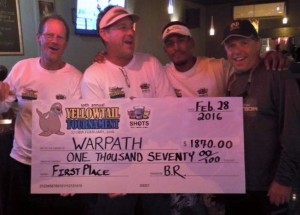 We are getting some nice weather! That can always make a slow day of fishing better, which plenty are still experiencing. The whales weren't seen in number, though a few Orcas came through. The bottom fishing is picking up. I am still hopeful that things will be picking up as the bait gets bigger and the fish go on the feed before the spawn. The water is warming quickly. The marlin are already moving in and up the coast. We've seen flying fish, and we might even see dorado and tuna soon. On that note though, I'm not sure if the schools of yellowtail up the coast might just chase the cooler water to the north. I've seen those spring tides kick up cold water out of nowhere, so only time will tell.
Last weekend saw the 10th Yellowtail Tournament here with 12 boats and 47 anglers. Shots Restaurant hosted the event and cooked up a spectacular meal. Day One saw very slow fishing after great reports the previous day. All the good reports had been coming from up the coast. That day though the fish came up at San Antonio where a few fish were caught. Many boats tried the Island where there was tons of bait and hopefully the big one for the jackpot. The Saturday jackpot though was won up the coast with a 14.1 pound fish. The total for the day was also taken late up the coast by Warpath. The bite was found up there again, with the best action 25 miles away at White Rock. The fish were chasing bait on the surface and several boats loaded up with limits of nice fish on poppers and jigs. In the end, Warpath took the day again, and the tournament with 185 pounds for their 15 fish. One other nice check though went to Rod Tuggers for their 19.1 pound yellowtail. I think everyone had fun in the nice weather. As the story has been for a couple of months now, if you want good fishing, you're going to need to run up the coast and hopefully find them biting.
San Carlos Fishing Report: February 22, 2016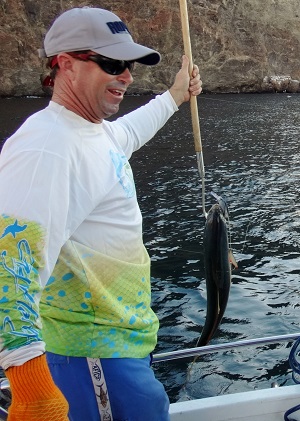 We had some beautiful weather last week! It was glass calm for several days, which made for some great whale watching. Whale watching is something that is very difficult to guarantee, unless you spend entire days looking. For several days they were around. I think there were some Fin Whales around, but on Friday they were all Grey Whales. I have never seen this large a group in close, and especially full grown adults feeding. We had a monster come within 20 feet of the boat, and most everyone had close encounters. One juvenile put on quite a show! They were feeding on krill and small fry possibly, along with several thousand Greebs. … And the next day they were gone, much like the fishing.
The bottom fishing is slowly picking up. We caught a few Sierra which is rare for February. There were even a few marlin seen! The yellowtail bit good at the Island one day, followed by two very poor reports. They bit good in close finally on Wednesday, briefly on Thursday morning and afternoon, slow all Friday, fairly good Saturday, and then nothing on Sunday. The Seamounts had a few large fish. The seals ate well at times in all locations! The bite up the coast was fairly consistent for some excellent catches of yellowtail and a few cabrilla. We'll see where the hot bite is for the tournament this weekend.
The whales were seen again on Monday, so we'll see if they stick around!
San Carlos Fishing Report: February 17, 2016
First off, I heard 'San Antonio' from my father last week, but the bite was really off 'San Pedro Point'. You have to make the trek, and sometimes stick it out into the afternoon wind. It's scenic at least, … and then you'll miss the hot bite by a day. It's been off and on.
Reports in close have been mostly tales, if true. It's pretty dismal 🙁 !!! A few Island reports are trickling in. The bait is miniscule at the moment, but growing.
There are a number of whales around and the birds are busy up the coast. At least we are getting a break from the wind and it is warmer. Don't give up hope yet!
San Carlos Fishing Report: February 9, 2016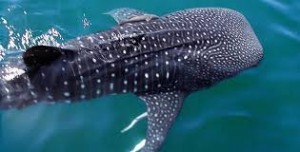 It sounds like the yellowtail have moved in! My father and friends were out today and caught a bunch off San Antonio. They were eating small sardines but hitting jigs and lures. I think the marlin are gone for some time as the water has significantly cooled off. The wind has been incessant in the afternoons.
Earlier in the week, and last, the bite was up the coast around Ensenada and farther up. We went up one day, not finding morning action, but the bait was thick. It sounded like activity picked up better some afternoons. Boats said the whales were pushing bait with the yellowtail along with them. One whale shark was spotted, and we even saw one turtle.
Looks like we'll have some better weather this week. Hopefully the calico bass will start biting. There's only a few weeks of practice left before the yellowtail tournament!
San Carlos Fishing Report: February 2, 2016
Well, the wind is back. We had a few nice days and the water warmed up to 70.
We got a couple of marlin after last week's blow and a few were caught on Sunday. I thought we were going to have a chance on Monday for the first February marlin ever, but the front rolled in. I saw flying fish and larger needle fish last week and was beginning to think that maybe we were into the new season and not the lingering of last year's fish.
There were blankets (millions!) of anchovy fry in the water, and tons of readings farther down. Some of the marlin seemed to be in the areas we found them at the start of last year.
The Island still sounds slow (from a few reports), but one friend did alright midday. The area off San Antonio held most of the marlin and some good yellowtail if you were persistent and could avoid Jaws the sea lion. The spot up the coast was hot again, and we hit it a day late with all the other boats for only a few fish. It seemed like the full moon slump again, and we'll keep our fingers crossed for tomorrow. The cold is back, but maybe we can mark this as the end of the 2015 marlin run and start the 2016 yellowtail run. The people want meat!
San Carlos Fishing Report: January 28, 2016
The warm water plume pushed up the coast on the full moon, bringing in a lot of marlin. We released nine in the last three mornings! They were spotted up the coast, so some may be around for a few days. The wind is back after a couple nice days.
The best bet for yellowtail is still far up the coast. There are some in close, but tough to catch. There is still a mixed bag of fish out there. The jigging is decent off San Antonio. I didn't hear of anyone going offshore. I believe I heard of one poor report from the Island. The bottom fishing sounds fair. Maybe the bite will turn on after the full moon? A few Humpbacks are coming through. The Orcas were spotted out there one day. I saw my first flying fish in months, but I can't say yet that winter is over.
San Carlos Fishing Report: January 12, 2016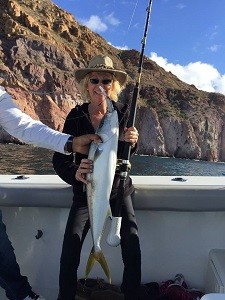 Not a lot of boats are heading out these days.
Mornings are fishable, but there's not much being caught. There have been some good reports from up the coast for cabrilla, yellowtail, and Sierra. I saw good readings in close, but they just weren't biting. Maybe we can blame it on the new moon.
I saw a jumper and a panga catch a marlin on the Seamounts on Saturday. One was supposedly caught on a jig. The last time I was out on Sunday, one was seen off La Manga.
Hopefully the fish will slide down the coast, as the best report I heard was from far up the coast. It sounds like there is a decent bite on the bottom out there, weather permitting. The wind just doesn't want to let up this year!
San Carlos Fishing Report: January 6, 2016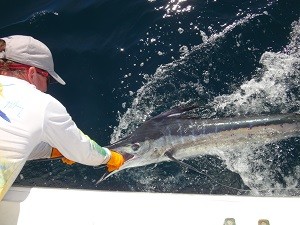 The marlin, it seems, have finally left. I heard of a few boats going offshore, but I didn't hear of any tuna catches. The water has dropped to 68-69 degrees and is clear. We saw a couple of marlin on Sunday. Some have been seen in extremely close. The last one we caught was on December 31st. That's definitely our latest date in the year for ever catching a billfish!
The fishing has been off and on, with few good stretches. It turned on Sunday with fish boiling all over in close. They were nice fish, with some hitting the surface poppers. Jigging has been good at times, but also only good in a spot for a day or two. Some great cabrilla catches were found up the coast, along with some Sierra. Bonita were caught at the Island, with a lot of larger yellowtail fed to the seals. Some boats are bottom fishing, but I haven't heard of any reports.
There are fairly favorable forecasts for the week, and the bite should pick up as we come off the full moon with very favorable tides, lots of bait, and cooler waters.
San Carlos Fishing Report: December 29, 2015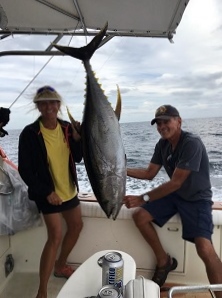 It was a fishy week. I made it to the lake with my father and father-in-law. We caught about 80 bass with around 8 from 3-4 pounds. The big ones will be out on the next full moon.
The bite was up and down and off and on this last week. The marlin were in places, and so were the tuna! My friend passed near a dozen on Tuesday, and then on Wednesday when a client wanted to catch one on a fly, we couldn't get one to come into the spread. After a great offshore report, we headed out to look for tuna on Thursday. We were out 28 miles, and on the way in I finally saw the birds! We intersected and all seven lines were hit, but unfortunately they were all skipjack 🙁
On Christmas Day we were out again for three quick marlin releases for the dads and myself, all within a couple miles and in under two hours.
A group had headed offshore that morning and Dakota had already boated a 100 pound tuna by 9:00am! We knew what we had to do though after last year's reprimand for coming home late. A few large ones were caught that day and a number of 15-20 pound fish.
Some big yellowtail were caught on the jig deep during the week. We found some big ones at times in close on the troll. We tried again for the tuna by ourselves, and struck out again. On Monday, they slayed them on the jig early and we saw crazy numbers boiling just the other side of the moorings. Today, the yellowtail would not bite.
The water is finally dipping below 70 degrees, but the marlin are still biting at times. We'll see who gets the next tuna. The boats are busy, so hopefully the weather cooperates!
San Carlos Fishing Report: December 23, 2015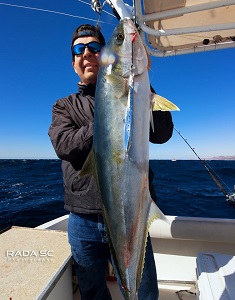 There was a little lull in the bite the last couple of days, but I think they will be back on before Christmas. There will be quite a blow after Christmas, but hopefully it will be fishable in the mornings. The water has finally cooled back down a bit, and we'll see if we get one more El Niño full moon blast of warm water from the Southeast, or if the El Norte winter wind takes over.
It was still a pretty good week for marlin in close. The yellowtail bite was good a times and there are still some sierra around. There were some reports of tuna from the very few boats venturing out. The last report was from only eight miles out! The previous was of lots of tuna at 32, but tough to catch. They also released five marlin that afternoon. Jigging worked for yellowtail offshore, live bait, and trolling around the Seamounts.
Look for great fishing this week, but expect some wind this weekend!
San Carlos Fishing Report: December 15, 2015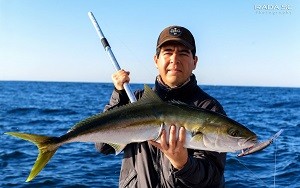 The billfish season continues in San Carlos.
We released over a dozen marlin last week. It almost seems like a repeat of the previous month to me, with temperatures cooling back down to the low 70's and the fish moving back to the same areas. The warm water is still trying to move up the coast. It was up to 75, with a 220 pound Blue Marlin and tuna weighing up to 55 pounds caught offshore.
The sierra bite was very good at times for some fish weighing up to 10 pounds. We had some very nice days.
The Island still sounds slow. We caught some very nice yellowtail today at the Seamounts, with marlin coming up too. We have seen marlin within a hundred yards of shore. I think we'll see some good fishing through the holidays!
San Carlos Fishing Report: December 9, 2015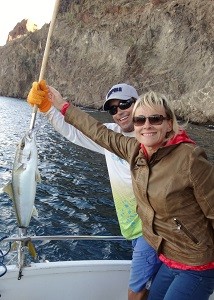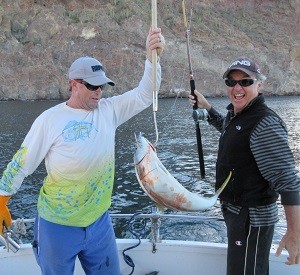 Thursday saw four marlin releases on our boat in a few action-packed hours. Friday morning saw the yellowtail coming up all over just around Doble. We landed three nice fish and then went after marlin. In the end, we released seven marlin and a large sailfish. Last year I set a personal record by releasing my latest sail ever on November 15th. It was a fantastic day of fishing and the weather was perfect.
We saw all the sealife last week, and I still think the Orcas will show any day now. One thing I am sure of is that there is a lot of yellowtail, sierra, and marlin to be caught this week. I also think the El Niño has one more push for this next full moon to keep the marlin around into the big holiday week, if winter ever really settles in this season.
San Carlos Fishing Report: December 2, 2015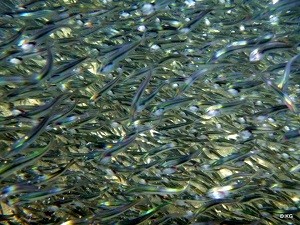 It is now December, but there are still marlin around. The good thing is that they are within a mile, especially since the wind is relentless. We almost had a double sailfish last Wednesday, and some were caught this week.
We were getting Sierra throughout the week, and now we are getting mostly bonita. The yellowtail were biting early in the week. There were some big boils at times! The full moon is over and they should be biting again soon.
We caught marlin in 80 ft of water. We have had a handful of short hookups on the Rapalas. They are working the bait balls off La Manga and in the Bay. They should stick around for another week, so get out there before they are gone!
San Carlos Fishing Report: November 24, 2015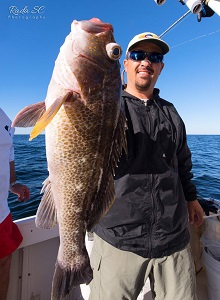 We are getting a last taste of summer here. A hurricane is also actually looking to graze us, and we'll be lucky to see some increase in southern currents. Cabo might get a good breeze though!
A front dropped it down to a frigid air temp of 63 degrees last week. There were a ton of marlin in close for a few days. Then it seemed to thin out. The water temp dropped, causing the water to cloud up, but now it's on. There is still some dirty water and it will be a full moon, but get out there tomorrow.
I saw lots of marlin today within a mile of La Manga. There were yellowtail boils all over, but they were tough to get. I saw marlin, boiling, tailing, and one behind my bait… I had headed back to get bait, and upon returning, sure enough got one in the afternoon. What a rush! Solo-handed on a 15 ft skiff! I also managed to jig up 6 more 10 pound yellowtail in the afternoon. I'm not saying that everyone is catching, but they are out there!
San Carlos Fishing Report: November 17, 2015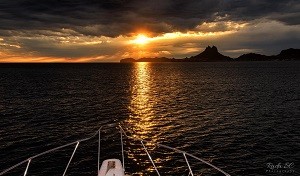 It's not looking good for the pelagics. There is an entire week of wind forecasted.
Monday was too rough to even go beyond the points. We stayed around Honeymoon Island and caught a lot of Skipjack, a big Sierra, and one nice pargo.
On Sunday we saw the marlin within a few hundred yards of shore, but couldn't get a bite. The Sierra were around Piedras Pintas. A few yellowtail have showed up in close. The water is down to 73 degrees out front, but is still showing 78 degrees by the Reef
San Carlos Fishing Report: November 11, 2015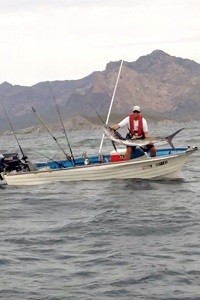 The fish are coming to the surface. After months, I finally saw a 'jumper'. We have seen a number of fish tailing too.
A beautiful break showed up to the south last Tuesday. We made it out on Thursday before the wind really came up. It seemed to turn the fish on though. We released three marlin and two sails, along with two dorado. The bull went about 23 pounds and crashed a popper. I think we may have seen tuna too.
The warm clear water pushed fish into within a mile. We have had a handful of marlin and sails released over the last few days, all within two miles. Other boats have had some success too.
Inshore, we have been getting a few toros, lots of Skipjack, and a number of 3 – 6 pound Sierra. They are superb fresh off the smoker. We caught one small yellowtail, and one was caught jigging. Maybe after this next blow the bonita will come in. The shorelines still have a number of predators around attacking the massive amount of bait.
San Carlos Fishing Report: November 5, 2015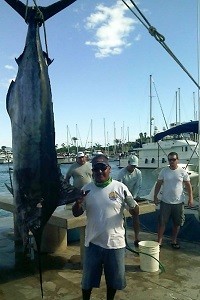 A warm plume of clear water came up early in the week with a number of billfish. There were some big sails and a number of marlin on the end of the Reef on Wednesday. On Friday, we hooked a 300 pound Blue that put on a spectacular show. It wrapped itself and burned through the second angler. I was handed the rod and the fish went near to the bottom in 1200 feet of water. I figured it had died and maxed out the drag. I inched it up for 20 minutes with the help of the waves. It was the only billfish of over a hundred this year that died on us. It was unfortunate but it fed a lot of individuals.
The last couple of days have been very tough. The water is still pushing 80 degrees, but it is fairly green. I think the billfish are around but still on bait balls down deep. There are a few small dorado around, with a few better ones caught off floating objects. They could be out there around big sardine balls.
San Carlos Fishing Report: October 27, 2015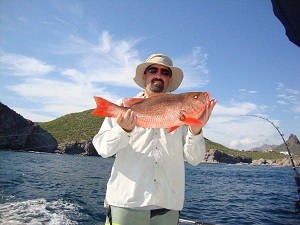 The fishing is slowly picking up. Light northwest winds are keeping it cool, but also keeping the water greener. The water temp is finally in the low 80's, and there is some clear water out there. There is some good bait offshore in areas. Look for the breaks. The fish are not on the surface yet or jumping.
On Tuesday, we found the fish on the end of the Reef. There are a few dorado out there, some pushing 10 pounds. We are seeing more marlin and some big sails. We released one 200 pound Blue this week. The billfish bite is decent, but they prefer bait. No floaters have held fish, besides one dead sea lion we raided on Monday.
I heard of one possible report of a few tuna caught on the other side. There were some good Sierra off San Antonio after the last front, and we picked up one 6 pound Cabrilla in close. The big Jack Crevalle are here and there around the Bay. There are big schools of bait around in close, with predators not far behind.
Congratulations to Team Predator and Fantasma from San Carlos, who placed in the Release Divisions at the Bisbee's Black & Blue Tournament in Cabo San Lucas. Predator was third with one early release, and Fantasma second, being the second boat to release two blue marlin. Their checks weren't quite as big as Tranquillo's $2.35 million!
San Carlos Fishing Report: October 13, 2015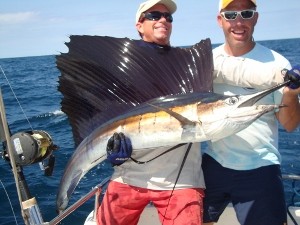 Things are slowly picking up for the fishing. We are catching a billfish or two a day, and not too far out. The bite for sierra and skipjack is decent. A few small dorado were caught not too far out.
We just got back from a three day trip across, passing Tortuga Island to Santa Rosalia, San Marcos Island on the way to Mulege, and home to San Carlos … and only finding one 4.5 pound dorado along the way. I don't know why. We passed a ton of flying fish. Hopefully there are still some to the north. We did find a number of sailfish, a few marlin, a couple yellowtail, jacks, triggers, and cabrilla. Santa Rosalia had a major rain on Saturday, but they were cleaning up early on Monday. It is an interesting little town, but the group favorite was Mulege. It was my first time there, but we are already making plans to return. We found some great snorkeling and enjoyed a lot of great scenery.
The water is still in the upper 80's and blue. I don't know what to expect, but I think we'll continue to see steady improvement.
San Carlos Fishing Report: October 6, 2015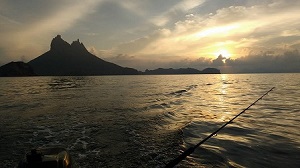 Well, we're back to catching fish. The weather has been teetering on cool to hot throughout the days, with some showers too.
I saw my first waterspout on Tuesday — it lasted 90 minutes.
The billfish have been a little tough a times, but we are getting some releases, with a couple boats getting four on Saturday. I have not heard of a single dorado caught or seen, but no one has been heading out very far.
We are getting some nice Sierra all around, with a lot of Skipjack. There are a number of snapper in close. Look for the pelicans looking to pick up the scraps. We finished the day today with a nice 25 pound jack. There were huge schools chasing bait in a few feet of water around Honeymoon Island. Reports were of lots of flying fish moving in, so hopefully the dorado will show again soon!
San Carlos Fishing Report: September 11, 2015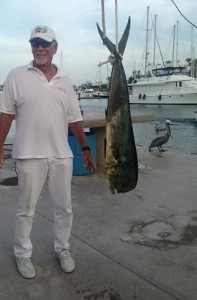 Labor Day weekend saw 13 boats compete in good weather conditions. The fishing was not so good. Over two days, only eight billfish were released. Grey Goose released two the first day for the win and the invitation to the World Offshore Championships. Second place went to Predator with a sail release and one 12.2 pound tuna. No Limit weighed the only weighable dorado at 12.2 pounds. The water wasn't very clear, which may have led to a number of fish lost.
Besides not many fisherman out there, a major algae bloom greened up most of the entire sea for a few days. It was still very green this last week leading to poor hunting visibility for the fish. That, coupled with water around 90 degrees, leads to some tough fishing.
The dorado still haven't shown up, though it sounds like some are being caught by the long lines on the other side. Even the small ones in close seem to be very scarce and even smaller. The recent Dorado Derby was won by an 11.65 pound dorado, and a tournament off the East Cape was won by a 13 pound dorado. It is not looking like a good year for dorado.
We did find… off California. We missed the epic bite by a week, but still caught about 100 dorado and tuna to 15 pounds. In Utah, I caught about a hundred 4 – 7 pound rainbows at a friend's lake. Point Reyes, California gave up a few halibut to 24 pounds, along with ling cod, rockfish, and one King. The Rogue River one 12 pounds King, some small bass from the Sacramento River Delta and Crow's Nest, N.C., and one 10 pound Redfish from North Carolina. Now off to the mountains of Colorado!
San Carlos Fishing Report: August 5, 2015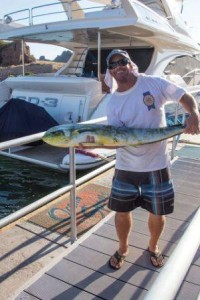 We are catching limits of dorado in San Carlos, but unfortunately they are all smaller ones weighing between 3 – 7 pounds. The small ones are within a mile, right up to the harbor entrance, and up and down the coast. They will be a decent size in the Fall. Small lures work best.
We did have a nice 150 pound marlin come in on a 3″ lure inside the Bay. I scrambled for a ballyhoo and pitched it to him but the hook didn't set.
There's lots of small skipjack too with a few Sierra around. There are very few sailfish being reported, but they are out there.
One big dorado was caught by a boat coming back from the other side. Most boats are content sticking in close and just getting a few fish for dinner. The bait is out there, but we'll need some big storms to change up the action.
San Carlos Fishing Report: July 21, 2015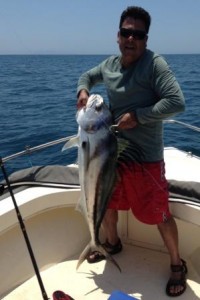 It's hot out! There are some pleasant days on the water though. We found lots of small dorado within the first mile on Monday. Sailfish were seen and one was caught a mile out too.
We were out on Sunday to 42 miles seeing hundreds of Risso Dolphin and near a thousand Bottlenose Dolphin. We had a dozen sailfish bites and half were hooked up, but we only brought two to the boat.
Some friends went farther — all the way to Tortuga, but also only caught two sailfish. Other friends found some good dorado and yellowtail within a few miles of the other side.
We have found sailfish scattered in close and around the Reef with a few dorado weighing up to 12 pounds. There were also a few whale sightings out there. I am not sure when things will change too much, but it seems to be improving somewhat.
San Carlos Fishing Report: July 15, 2015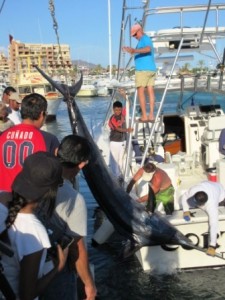 Thirteen boats and 38 anglers came out for the 68th International Billfish Tournament.
The seas were calm and the breezes kept us cool. We caught the only weighable dorado at 21.4 pounds. A friend did catch one over 30 pounds yesterday. Some good ones were caught and lost over the week. I did hear of one 70 pound wahoo landed. Our dorado was beat by Santa Maria's 72 pound sailfish for the Saturday jackpot.
Cortezano would have won all the jackpots if they had entered. They hooked up a double on Black Marlin early in the day, losing the first after several hours. The second stayed on for 6.5 hours, until they could plane the dead fish up. It broke the rope and maxed out the scale. Measurements put the fish between 550-600 pounds. That's the largest ever weighed in a tournament here! That fish along with four releases on Sunday won them top boat!
We were one fish behind them all day, for second, but 1st place overall jackpot. Reel Mistress came in second with their top angler Dave Williams sharing the top angler honors with myself. 33 sails and 6 marlin were released.
There are pretty slim pickings on fish in close. The best action was beyond the Reef. We released 7 in two days, shaking off and missing an equal number, so there was decent action. Some friends jigged up a yellowtail and some big grouper off the Reef. We are eating fresh fish.
San Carlos Fishing Report: July 7, 2015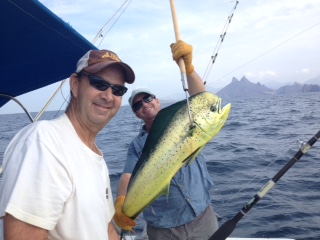 The 68th International Billfish Tournament is this weekend. Hopefully someone will find the fish!
Good reports are few and far between. It even sounds slow on the other side. One couple did get lucky over there, finding a floating seaweed patch. They caught all they could handle, along with a few big ones. They also found some billfish. Another friend got into a huge school of sporting roosterfish. That's a long ways to go though.
Over here we've been plucking a few small ones off the buoys and in close. A few skipjack and Sierra are around. Very few billfish are being caught. I think I have gone an entire month without catching one! There may be some inshore species showing around the small anchovy schools. Well, we'll see if anything changes anytime soon!