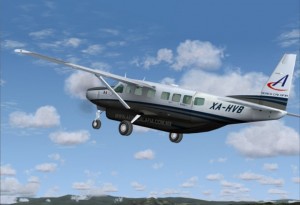 Flights to Guaymas / San Carlos
A few airlines offer flights to Guaymas / San Carlos Mexico.
Aeroservicio Guerrero has flights from Guaymas to Santa Rosalia, Guerrero Negro and Loreto. Telephone: (622) 221-2800
Aerocalafia has flights from Guaymas to La Paz, Los Cabos and Puerto Penasco.  Telephone: (622) 221-0511 & 221-0634
As of October 2016, we are still waiting for more information on the much-anticipated Tucson and Phoenix flights into Guaymas/San Carlos.
Track your Guaymas arrival or departure with the fight status tool.
Guaymas airport: General José María Yáñez
Airport code: GYM
Flying into Hermosillo
Track your Hermosillo arrival or departure with the flight status tool.
It is often less expensive to fly into Hermosillo and get a ride or take the bus into San Carlos / Guaymas. Tufesa has buses that go from the Hermosillo airport to Guaymas several times a day. The cost is 115 pesos for an adult.
Hermosillo has daily international flights. Some of the airlines that fly to Hermosillo are:
US Airways, AeroMexico and Delta to Phoenix;
AeroMexico, AeroMexico Connect and Delta to Los Angeles; and
Volaris, LAN, Interjet, KLM and COPA to Mexico City, where you can get flights all over the world.
If flying from Tijauna is a good option for you, you'll be happy to know that a planned pedestrian bridge will offer easier access to the Tijuana airport from San Diego. Read more
Beginning Monday, October 3, 2016 Mexican airline
Aeromar
will begin offering four weekly flights between Tucson and Hermosillo.
The one hour flights will operate Fridays, Sundays, Mondays and Thursdays, with one-way fares beginning at $120 USD (2794 pesos).
Initially, Southbound flights will depart Tucson at 1:20pm and arrive in Hermosillo at 2:25pm. And, Northbound flights will depart Hermosillo at 11:25am and arrive in Tucson at 12:30pm.
Several international carriers service Hermosillo, including:
Aeromexico
Telephone: (622) 222-0123 & 222-0266
Website: AeroMexico
Address: Ave. Serdán y Calle 16 No.236 Guaymas, Sonora
US Airways
Website: US Airways
Telephone: (622) 221-2266
Delta Airlines
Website: Delta
American Airlines
Website: American Airlines
VivaAerobus
Website: VivaAerobus, flies from Hermosillo around Mexico.
VivaAerobus' hub is Monterrey. From Monterrey there are many flights to other destinations around Mexico and to Las Vegas and Houston.
Telephone (United States): +52 (818) 215-0150
Maybe a new airline will eventually fly from the US (Phoenix) to Guaymas / San Carlos Mexico. Hopefully this list of airlines will help you get the best cheap flights to Guaymas / San Carlos Mexico.