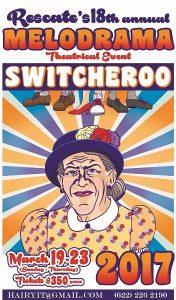 Rescate's 19th annual Melodrama is from Sunday, March 18 to Thursday, March 22, 2018.
From 2017 … stay tuned for details on 2018
Rescate's 18th annual Melodrama "Switcheroo" is from Sunday, March 19 to Thursday, March 25, 2017.
You've loved them before and you'll [hopefully] love them again … Rescate's 18th Annual Melodrama production featuring our local thespians and crew that make it all happen.
Rehearsals have begun under the capable direction of Mr. Darryl Kuntz, from Durango, Colorado.
We hope to see everyone there at 7:00pm each night at the Rescate parking lot at the new infirmary. Rescate is off Beltrones, towards the water and across from the first Pemex.
Don't wait until the last minute to get your tickets. Tickets cost 350 pesos and are available in front of Santa Rosa Market, at Rescate Treasure's Thrift Store or from all cast and crew members.
For ticket information, please contact Harriet at hairyit@gmail.com or 226-2190.
Proceeds help support Rescate de San Carlos Ambulance and First Emergency service.
Rescate Melodrama Casting Call, January 8, 2018
Actors and actresses are needed to make the annual Rescate Melodrama the best ever. No previous acting experience is needed.
Do you yearn for the thrill of being in a live production, on stage, performing in front of your friends? Then come to Club Deportivo on Monday, January 8.at  3:00pm to show your stuff.
This years production is cuckoo!. No, REALLY, the name is "Cuckoo"! We need your help. It's always fun and a great way to exercise your brain….Join us and help RESCATE.
For more information, contact Harriet and Darryl; Producer and Director at hairyit@gmail.com, 226-2190.
Rescate Melodrama Rerun, April 17, 2016:
If you missed this year's Melodrama or if you just want to see it again, here's your chance!
On Sunday, April 17 at 7:00pm, join the cast and crew for "Six-Pack Stick-Up", the movie.
The movie will be shown at Iguana's Restaurant and Bar in the back room.
Admission: Donation of at least 50 pesos to Rescate.
Come on out and have fun while supporting Rescate. We will have DVDs for sale (while they last). The cast and crew will be there for autographs, photos, etc!
Rescate Melodrama Videos
Rescate Melodrama Photos
Rescate Melodrama photos by Bob Mettlewsky