Mother's Day San Carlos, Mexico: Pamper your mother with special menus, drinks and entertainment. Celebrate at these restaurants:
Celebrate Mother's Day, May 10 & 14
Mexico celebrates Mother's Day on Wednesday, May 10. Canada and the US celebrate Mother's Day on Sunday, May 14. Celebrate at these restaurants:
At El Mar Restaurant, moms will be treated to special entertainment on Wednesday evening.
At Mr. Iguana Burger, all moms receive 2 x 1 Margaritas! They will also have this special for moms on Sunday, May 14.
Colibrí Restaurant & Bar will have specials for all moms for breakfast starting at 8:30am, lunch, and dinner, on both Wednesday and Sunday. Call 622-
On Mother's Day (May 14), Sunset Bar & Grill would like to offer moms a complimentary glass of champagne. There will be live jazz from 6:00pm to 9:00pm. Reservations are recommended: call 622-125-7238.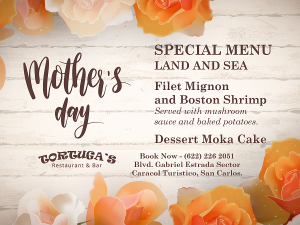 Mother's Day at Tortugas: May 10 & 14
On Sunday, May 14, and Wednesday May 10, dine on Tortuga's Mare y Tierra Mother's Day special of filet mignon and boston shrimp served with baked potatoe and Moka cake with creamy vanilla ice cream for dessert. Cost: 590 pesos per person.
All regular menu items will also be available.
Call for your reservation: 622-226-2051