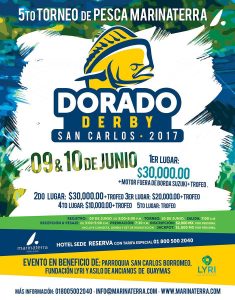 The 5th annual MarinaTerra Dorado Derby will take place from June 15 – 16, 2018.
Info from 2017 … 2018 coming soon:
Register on Friday, June 9 in the Terra Salon at Marinaterra Hotel & Spa from 3:00pm to 8:00pm. The cost is 2,000 pesos per person.
By 6:30am, all participating boats must be located at the exit or entrance to San Carlos bay, to start the tournament. The tournament will begin at 7:00am on Saturday, June 10, with weighing from 3:00pm to 5:00pm.
At 7:30pm, the awards ceremony and dinner will take place at MarinaTerra.
The prizes are: 1st place – 30,000 pesos + outboard motor + trophy; 2nd place – 30,000.00 pesos + trophy; 3rd place – 20,000 pesos + trophy; 4th place – 10,000 pesos + trophy; 5th place – trophy.
For more information, email info@marinaterra.com or phone 622-225-2020.
Invitan al Torneo de Pesca Mmarinaterra Dorado Derby: El 9 y 10 de junio se realizará el V Torneo de Pesca Marinaterra Dorado Derby en San Carlos.
Viernes 9 Junio 2017:
Registro de 17:00 a 20:00 hrs.
En Salón Terra, de Marinaterra Hotel & Spa
Sábado 10 Junio 2017
06:30 hrs. Todas las embarcaciones participantes deberán ubicarse en la salida o entrada a la bahía San Carlos, para oficializar y dar inagurado el torneo.
15:00 – 17:00 hrs. Recepción y pesaje
19:00 hrs. Premiación, explanada de salones de Marinaterra Hotel & Spa, ceremonia de premiación y cena de clausura.
2017 Dorado Derby Results:
1st place. Heriberto Velazquez, on El Fantasma: 11.4 kg.
2nd place. Fernando Escalante, on La Revancha: 10.7 kg.
3rd place. Jose C. Ojeda, on Mirage: 10.3 kg.
4th place. Mario Puebla, on El Fantasma: 9.3 kg.
5th place. Arvidson Joshoa, on Chasen Tail: 7.6 kg.