The extremely popular ExpoGan in Hermosillo will be ongoing from April 24 to May 18, 2014.
It includes rodeos, horse riders, dance performances, theater, live music, children's rides and art shows.
On Sunday, April 20 there will be a parade through Hermosillo.
Many shows and live entertainment are included in the 50 pesos entrance fee.
The fair opens at 4:00pm each day.
Palenque Program / ​​Artists – ExpoGan Sonora 2014
Thursday 24 April: Javier Rosas / Hermanos Vega Jr.
April 25 – 26: Lorenzo de Monteclaro / The Invaders Nuevo Leon
Tuesday 29 April: Sasha, Erick Beny and
Wednesday 30 April: Marisela
Thursday 1 May: Gerardo Ortiz
Friday 2 May : Espinoza Paz
Saturday 3 May: Joan Sebastian
Sunday, May 4: Tito Whirlwind
Tuesday 6 May: The Comedians
Wednesday 7 May: Alejandra Guzman
Thursday, May 8: Marco Antonio Solis "El Buki"
May 9 – 10: Los Tigres del Norte
Tuesday, 13 May: Jacqueline Alcala / Jessy Miranda
Wednesday May 14: Men G
Thursday, May 15: La Arrolladora Banda El Limon
May 16 – 17: Julion Alvarez
Sunday May 18: Cristian Castro Presale tickets for the Fiesta Americana Hotel Palenque and Music and .
New EXPOGAN Sonora 2014 – People's Theatre Cinema / Artists Saturday 26 April: Juan Ortega and his group Wednesday 30 April: MS Band Saturday 3 May: El Coyote y su Banda Saturday 10 May: Grupo Laberinto Sunday 11 May: Festival of 97.1 Saturday 17 May: Voice Command Sunday, May 18: Festival Kaliente
Official website: expogansonora.org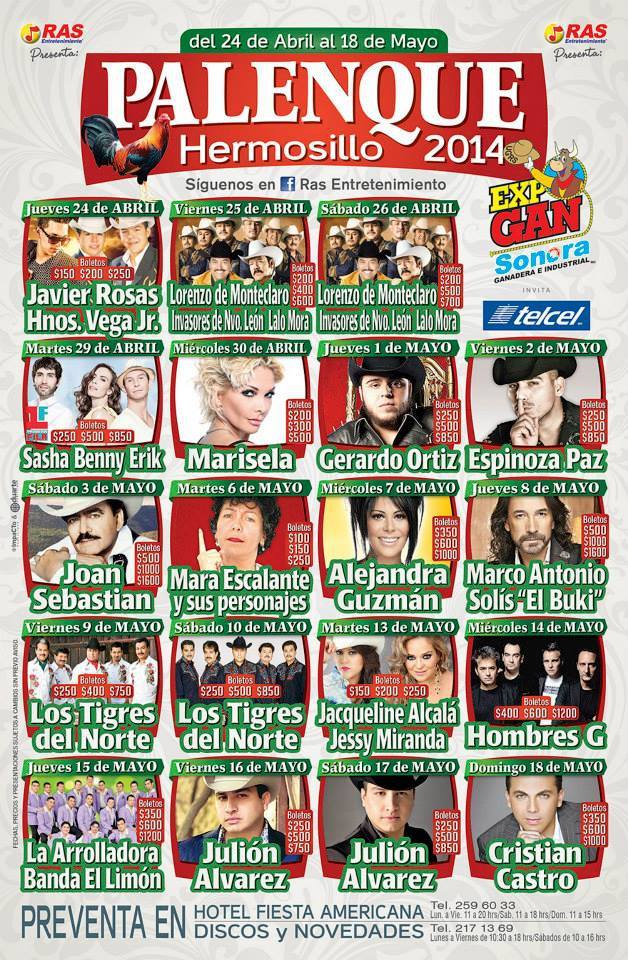 Teatro del Pueblo
Video de ExpoGan Hermosillo