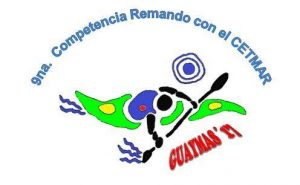 The 9th Annual Guaymas Paddle Event takes place on Sunday, May 21 at 10:00am from the Guaymas Malecon and 6 kilometers around the bay. All kayakers and paddleboarders are invited to participate.
The cost to enter is 150 pesos. You can register on the day of the competition between 8:00am and 9:15am.
Trophies will be awarded to the top 3 winners in each age category. Participants will also receive a T-shirt, water and food.
For more information, contact Gabriel Soto Monge at 221-5944, 622-118-6284 or email cetmardeportes@gmail.com. Also visit the Facebook event page.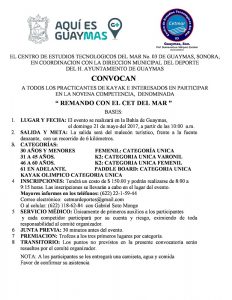 La Novena Competencia "Remando con el CETMAR"
EL CENTRO DE ESTUDIOS TECNOLOGICOS DEL MAR No. 03 DE GUAYMAS, SONORA;
EN COORDINACION CON LA DIRECCION MUNICIPAL DEL DEPORTE
DEL H. AYUNTAMIENTO DE GUAYMAS
CONVOCAN
A TODOS LOS PRACTICANTES DE KAYAK E INTERESADOS EN PARTICIPAR
EN LA NOVENA COMPETENCIA, DENOMINADA
" REMANDO CON EL CET DEL MAR "
BASES:
1. LUGAR Y FECHA: El evento se realizará en la Bahía de Guaymas,
el domingo 21 de mayo del 2017, a partir de las 10:00 a.m.
2. SALIDA Y META: La salida será del malecón turístico, frente a la fuente
danzante, con un recorrido de 6 kilómetros.
3. CATEGORÍAS:
30 AÑOS Y MENORES FEMENIL: CATEGORÍA UNICA
31 A 45 AÑOS. K2: CATEGORIA UNICA VARONIL
46 A 60 AÑOS. K2: CATEGORIA UNICA FEMENIL
61 EN ADELANTE. PADDLE BOARD: CATEGORIA UNICA
KAYAK OLIMPICO CATEGORIA UNICA
4 INSCRIPCIONES: Tendrá un costo de $ 150.00 y podrán realizarse de 8:00 a
9:15 horas. Las inscripciones se llevarán a cabo en el lugar del evento.
Mayores informes en los teléfonos: (622) 22-1-59-44
Correo electrónico: cetmardeportes@gmail.com
O al celular: (622) 118-62-84 con Gabriel Soto Monge
5 SERVICIO MÉDICO: Únicamente de primeros auxilios a los participantes
y cada competidor participará por su cuenta y riesgo, eximiendo de toda
responsabilidad al comité organizador.
6 JUNTA PREVIA: 30 minutos antes del evento.
7 PREMIACION: Trofeos a los tres primeros lugares por categoría.
8 TRANSITORIO: Los puntos no previstos en la presente convocatoria serán
resueltos por el comité organizador.
NOTA: A los participantes se les entregará una camiseta, agua y comida
Favor de confirmar su asistencia