Head to Carnaval Guaymas for the biggest party in Sonora. For Carnaval, Guaymas' beachside malecon will be transformed into a party promenade.
The week of Carnaval, February 8 – 13, will be filled with the burning of the bad humor, crowning of the Carnaval Queen and Rey Feo (Ugly King), concerts, theater, poetry readings, fireworks, parades and all night parties.
On February 8, Carnaval kicks off with the Burning of the Bad Humor at 8:00pm, then a free concert at 3 Presidents Plaza.
Starting on Saturday, February 9, there will be four days of colorful parades featuring decorated floats, brightly masked and elaborately costumed people, marching bands, and pulsating dance music. Plus food and beer stands and elevated stages that will feature various live concerts. Thousands of onlookers, both young and old, will dance, cheer and throw confetti along the parade route, then make their way to the malecon where the party will continue with more live bands, food, drink and carnival rides.
The parade will start at 3:00pm each day (Saturday to Tuesday) and travel along the Guaymas Malecon from 20th Street to 10th Street.
There will be live entertainment each evening and carnival rides.
If you haven't yet had the pleasure of experiencing Carnaval make your way into Guaymas and fiesta Mexican-style.
Carnaval Guaymas 2017 Schedule
click on flyers to enlarge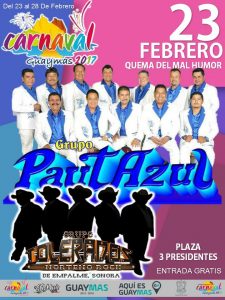 https://www.facebook.com/carnavalguaymas/
http://www.carnavaldeguaymas.com/
Carnaval Guaymas Photos
by Cathy Henkel